Posted on 04/16/2020 at 4:17 PM
By now it is likely that many of you have started receiving stimulus checks being issued as a way to increase economic support during COVID-19. At the same time, many of our small businesses are struggling. Some of them have been shut down completely, others have components of their businesses available but all of them are in the same boat and have been negatively impacted by this virus. As you receive your stimulus check, whether this week or next, next month or after, I would encourage each of us as Grinnellians to consider how that money has the ability to generate positive waves in our community. If each of you reading this note took just 5% (which may amount to more for some folks than others) of what you receive and spend it with a local business to support them or one of the ideas mentioned below, that would equate to nearly $300,000 to our Grinnell community! Will this make them whole? Of course not, but it may be the ticket to keep them from having to close their doors post-pandemic.
You can support many businesses through the Grinnell Gift Card program(purchase a gift card now to spend later!), or by making a donation to the Grinnell Small Business Relief Fund, a program our office is administering to aid Grinnell businesses in the form of small grants. If you're still not sure of the best way to support a local business, we encourage you to reach out and ask them directly!
Additionally, there are a number of efforts underway to support fellow community members and nonprofit organizations including the Grinnell Food Coalition and the Nonprofit Emergency Relief Fund. These two collaborative efforts are raising dollars to support individuals who may be experiencing hunger through food vouchers to be spent at area grocery stores and raising dollars to help support the nonprofit organizations that have, or are likely to have, challenges as a result of COVID, respectively.
Please consider the various ways you can stimulate our local economy and support our neighbors in the process. And when you do, please share it via social using #GRINNtogether while tagging the Chamber so we can help spread the positive community collaborations occurring on a daily basis.
--Rachael Kinnick
p.s. You can also play Grinnell BINGO while you pass your days. Download this game to find creative ways to help support and uplift our community!
Posted on 03/19/2020 at 4:56 PM
I'm pretty sure I started last week's newsletter with 'Wow, what a week!' but it feels pertinent to start this week's with the same. I hope you are all holding up okay as we make daily, sometimes hourly, adaptations into a 'new normal' as a result of COVID-19. So much has happened since we sent our regular communication just a week ago, and I am certain that much more will be different before next week's newsletter.
With this ever-changing situation it seems as though negativity is beginning to take hold. As we see positive things happening, we want to ask that you use #GRINNtogether to share stories. Show our business owners, community leaders, healthcare professionals, public safety teams, store clerks, and so many more that we are in this together, and we support Grinnell. Plus it just brings a grin to your face, right? At least it does to mine, and I'm confident we could all use a grin right about now!
Yesterday we hosted a Facebook Live event with member, Jennifer Weinman Photography, who primarily works from home AND homeschools two children. With so many people making a shift to working from home due to the virus, we felt it was timely to ask her for some tips and tricks! If you didn't catch it live, you can stream it here (skip ahead 2.5 min to start). Allow me to share a few of my favorites from our virtual time together: batching work -- attempt to pull like-projects together and work on them at the same time; identify a schedule -- especially if you'll have kids around while working from home, make sure you create a schedule (and let your kids help!) that will allow all of you to have productive time; and finally, remember to give grace - to yourself and to those on virtual meetings. Everyone has a new normal, and it's important to give each other grace as we navigate these days and weeks to come.
--Rachael Kinnick
p.s. We launched a Grinnell Eats graphic on social earlier today. It's a great resource listing our local eateries, their hours and delivery methods.
Posted on 03/13/2020 at 12:23 PM
Wow, what a week! Certainly one that will be marked in history for many reasons. Our team has been working hard to share information, convene (virtual) meetings, and discuss ways our community can continue to plan and prepare for the quickly evolving challenges due to COVID-19. While we continue to work on longer-term efforts, I can assure you there's a message I've been preaching already and will certainly continue as long as needed: there has never been a better time to support local businesses.
Many of our Grinnell businesses will be impacted greatly as a result of COVID-19; please do what you can to support them if you are able. If you don't regularly eat out, perhaps you'll consider it more in the days and weeks to come. If you're not comfortable going to the restaurant, remember that take-out is always a great option as well! Perhaps it's time for that new pair of shoes you've been considering, or the extra morning donuts or latte. Instead of heading out of town for your next vacation, consider a staycation exploring Grinnell and the surrounding area. Our small businesses need our support now more than ever, and I hope you will join me in doing what you can to support each and every one of them.
--Rachael Kinnick
p.s. We've been busy brainstorming a new on-the-go business idea for Grinnell -- if you're interested in helping to be a part of a possible solution to help small businesses, please reply to this email!
Posted on 02/28/2020 at 9:03 AM
Have you heard of the 5-2-1-0 Healthy Choices Count program? This initiative, led by the Healthiest State Initiative and the Iowa Department of Public Health and part of the nationally recognized 5-2-1-0 program, is helping create healthier environments in educational settings, health care practices, workplaces, and communities - the places where Iowa families live, learn, work, and play.
Four numbers - one way to stay healthy! 5-2-1-0 calls for the following every day:
5 or more servings of fruit and vegetables
2 hours or less of screen time
1 hour or more of physical activity
0 sugary drinks - drink more water!

Grinnell was recently awarded a $30,000 grant through the Iowa Department of Public Health and has spent several months engaging community partners to identify projects specifically related to at least one of the 5-2-1-0 focuses noted above. Now that these projects have been identified and verified, partners are now beginning to implement some of these projects which include installing sensory pathways (creative pathways designed to help children build connections to sight, touch, sound, etc) in our elementary buildings, purchasing of portable playground equipment to use in various parks and events this summer, and taste testing in elementary schools, to name a few.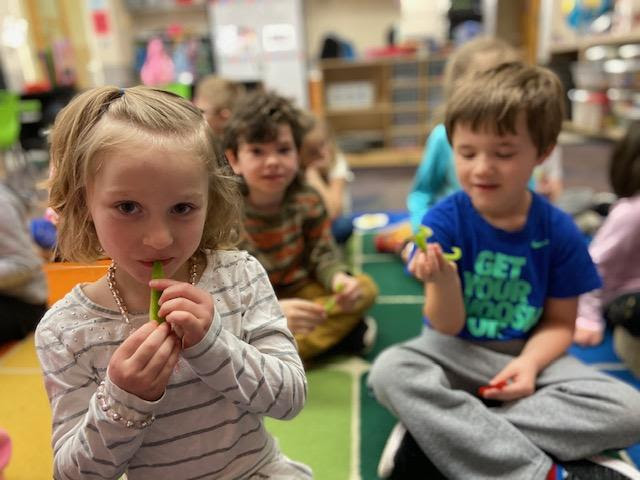 Earlier this week, the Grinnell-Newburg School District held a 'Taste Test Tuesday' in an effort to get kids to try new fruits or vegetables. Dietitians and teachers lead some of the discussions with youth, encouraging them to try something new. Much to their surprise, some of these students learned that they really do like bell peppers even though they hadn't been too excited about it prior! Through the partnership with the School District, these 'taste tests' are also able to be extended to the full menu, allowing students to eat the fruit or vegetable again as part of school lunches.
There are many great health-related projects taking place in our community, and we're excited to help share information as we work collaboratively to #buildahealthygrinnell with our #healthychoicescount.
--Rachael Kinnick
Posted on 02/20/2020 at 4:25 PM
Don't worry, I'm not talking air conditioning just yet -- if I wanted that I'd just take a step out to the arctic blast this morning! Today we're talking AC as in AmeriCorps -- did you know that Grinnell has had a very robust AmeriCorps partnership for the past several years? Largely spearheaded by Grinnell College and in collaboration with the Grinnell Education Partnership, the effort integrates several different organizations and partners from the Chamber of Commerce to the Greater Poweshiek Community Foundation, Grinnell Regional Medical Center, Drake Community Library, LINK, Grinnell College Museum of Art, Grinnell-Newburg School District, Grinnell Community Early Learning Center, Claude & Dolly Ahrens Foundation and so many more, in an effort to support kids and families in Grinnell. The program aims to give students a strong start so they can succeed early in school and ties with the Campaign for Grade Level Reading. Locally, the program truly is a collaborative effort to establish various programs in many different facets, and have supported many great programs including healthy readers, summer programming, addressing skills gaps and after-school care.
Cut-out hearts of what we love about the Partnership.
​​​​​​​
Our team participated in a meeting of the Grinnell Education Partnership just last week to talk about accomplishments, while also taking a look ahead to the future, and I have to share some of the remarkable successes as a result of this partnership. Just in the past year, the Partnership has been recognized by the International Town Gown Association (ITGA) with a Presidential Excellence Award for Volunteerism, a Pacesetter Award from the Campaign for Grade Level Reading, and Outstanding Nonprofit Collaboration Award from Volunteer Iowa. And while awards are rewarding and exciting to share, what may be more exciting are that reading test scores of our youth are improving, school attendance has improved, and children are entering kindergarten more 'school ready' than they have in the past, in part due to this collective impact initiative that is working to build sustainable models and programs.
AmeriCorps members help supplement the work happening in many of the aforementioned agencies around their work on the campaign, and have truly added so much to each of these programs. Over the past five years, more than 150 AmeriCorps members have been placed, and 300+ volunteers have contributed nearly 1,000 hours of volunteer time, and they're looking to expand that number even more by placing approximately 35 individuals this summer! If you or someone you know might be looking for a summer opportunity to help Grinnell's youth, this is a great one - you can find details here!
--Rachael Kinnick
Posted on 02/14/2020 at 8:29 AM
When you think of tourism in Iowa, you likely think about warm summer days, a bit unlike today! While most tourism takes place in warmer months in Iowa, smaller communities often see a tourism boost in different ways. The next several weeks will bring an influx of visitors to our community thanks to so many activities and events being held in Grinnell.
Not only sports tourism, but arts and culture, are drawing thousands of people to our community over the course of the year. This weekend alone, there are many events bringing visitors to our lovely community, including the Midwest Conference Swimming & Diving Championships at Grinnell College's Natatorium. And if you've never been to that facility, you need to check it out - especially on a day like today when it's so cold outdoors! If you check the activity calendars at the high school, college, and Ahrens Park, you'll see how many other weekends are filled with events that will bring visitors to our community.
These events have tremendous economic impact on our community as well - these visitors are putting money into our local economy by purchasing food, going shopping, filling up at the gas station and staying in our hotels.
Do me a favor over the next few weekends, and share the love (remember, today is Valentine's Day!) as you greet these visitors with a friendly 'hello'. After all, if they have a good experience in our community, they'll be more likely to return for a visit when they have more time to enjoy all Grinnell has to offer.
--Rachael Kinnick
p.s. Our Annual Celebration will take place March 11, and we're looking for your best experiences over the past year. Please consider submitting your nominations online here and purchase your tickets for the event here!
Posted on 02/06/2020 at 1:23 PM
Join us for a slice of pie next Wednesday as we talk Census 2020! Did you realize 2020 is a Census year? Beginning April 1, we'll be encouraging you to complete your census invitation so we can ensure a complete count of Grinnell! In an effort to help share this information early and encourage residents and businesses to be prepared we are co-hosting, along with the Grinnell League of Women Voters and the Grinnell Complete Count Committee, a Census Forum next Wednesday, February 12 at Drake Community Library. Two forums will be held, each lasting approximately one hour, with the first beginning at 4PM and the other at 7PM.
Census information will be shared by John Cook, a partnership specialist with the US Census Bureau, and will provide information on how a complete census count aids in long-term planning and sustainability for communities like Grinnell as well as Poweshiek County and the State of Iowa as a whole. We want everyone to be counted in this effort, including, but certainly not limited to, previously 'hard-to-count' demographics of ages birth to 5 years old and millennials.
I nearly forgot one of the selling points -- PIE! As we look to get our piece of the 'Census Pie', we thought it only fitting to serve pie at the event. Pie slices will be available courtesy of the League of Women Voters.
We hope to see many of you next Wednesday as we learn more about Census 2020 and how we can all be prepared to ensure Grinnell's Complete Count.
--Rachael Kinnick
Posted on 01/30/2020 at 11:42 AM
As Iowans, I know many of you are getting tired of the political landscape at the moment, and are counting down the days until the Iowa Caucuses. After all, we have been seeing and hearing from political candidates for well over a year now, whereas the rest of the country is just gearing up for what we've already become accustomed to. But let me take a moment to remind you that this is our time to shine - regardless of what political party you align with - Iowa is afforded an opportunity unique of anyone else in the country. I was reminded of this recently as I was with a group of colleagues from across the country and found myself frequently defending Iowa's position as the first in the nation. It was in those moments that I was reminded what an incredible moment this really is for Iowa, and while yes, I, too, am a little tired of all the political ads flooding the television and social streams, it's important to remember that this is our right. As Iowans and Americans, we have the right to vote and make our voices heard. There are not many places in the country who will be able to say, regardless of how the November election turns out, that they've had a chance to hear first-hand from the President of the United States in their coffee shop, diner, business operation or a rally. But as Iowans, we are often afforded that opportunity.
As Caucus night nears, I would encourage you to take part in the process, even if as an observer. This is a unique process, and we should embrace it as it truly does put our State on a platform that has trickle-down effect for all of us, not to mention the positive economic impact it's created for the State (2,000+ media correspondents are in Des Moines this week/weekend alone) as a whole but even our smaller community. From political offices leasing space, to media buys and coverage, to constant recognition across the country - these all have positive economic gain for our community.
As long as we're talking about our rights, I want to remind you of the Legislative Coffee, the first of which will take place this Saturday at 9AM at the Presbyterian Church. Our elected officials, Senator Kapucian and Representative Maxwell, will be in attendance to share some of the house happenings as well as take questions from attendees. These are important opportunities to share your praises and concerns and take a more active role in local government and policy. These events are co-hosted by the Grinnell Chamber of Commerce and Grinnell's League of Women Voters.
--Rachael Kinnick
p.s. If you're interested in Caucusing, or observing the evening, but not sure where to go you can find that information here.
Posted on 01/23/2020 at 4:02 PM
We are busy making plans for the Chamber's Annual Celebration, our annual event to connect with the business community while focusing on the achievements we've had in the previous year and outlining the slate for the coming one, all while recognizing our amazing business community and contributors.
Each year we ask you, our community-at-large, to nominate your favorite businesses, organizations and individuals for these annual awards. We believe success is best when shared, and we want you to share some of the successes you have had or recognized over the past year. Where have you had an extraordinary experience, who has done amazing things with their business, who are the up-and-comers in our business community? These are the people we're looking to recognize - those people who put tireless hours and passion into their businesses, careers and community.
Everyone is invited to submit nominations: you do not need to be affiliated with a Chamber Member in order to nominate businesses or individuals. Nominations will be accepted until 5 p.m. on February 28; past award winners are denoted on the nomination form as they are not eligible for the same category for two years; however, they may be eligible to receive an award in another category. The award recipients will be recognized at the Chamber of Commerce Annual Celebration which will take place Wednesday, March 11.
Submit your nominations online here and purchase your tickets now for the celebration of our business community!
--Rachael Kinnick
Posted on 01/16/2020 at 1:09 PM
You know the saying 'time flies when you're having fun'? I suppose the same could be said for working on visionary projects, which is what we have been busy doing for the past three plus years regarding broadband options in Grinnell. In many ways, it seems like just yesterday that we began working with the City to convene focus group meetings to better understand and determine next steps for downtown (it was actually Fall 2016!). Throughout the meetings, a number of common themes were articulated, including having broadband/reliable internet available to businesses and residents in Grinnell. Following those meetings, the Chamber's Board of Directors charged the staff to develop a comprehensive plan to address the fiber needs of the community and incorporated it into the Chamber's strategic plan. Since that time, our office has spent much time convening meetings, learning and having discussions to lead us to possible solutions.
Nearly one year ago, we used this newsletter to help launch a short survey to better articulate the need and desire for broadband in Grinnell. As a result of those survey responses, earlier this week Mahaska Communications Group (MCG) announced they are coming to Grinnell in 2020! They will begin developing a fiber installation plan and expanding their network to the Grinnell community beginning later this year. While they do not have their exact starting locations and timelines identified just yet, they are committed to running fiber to the entire Grinnell community and will offer a suite of services. Their entire build will likely take about two years; however, customers will be able to 'go live' in networks as soon as they're built. And rest assured, as soon as MCG has identified their zones and build dates, we'll be sure to share it with you, but for now you can find more details on their website.

(MCG team presented to the Grinnell City Counsel and community members on January 14th)
While it has been a long process, it's certainly a rewarding one, especially knowing that just a few months ago our community had very little fiber but following this announcement, and coupled with other area providers' efforts, will soon be a very connected community. We're excited to help share this news with you, knowing broadband and connectivity is something that many of our businesses and residents have been so passionate about for the past few years.
--Rachael Kinnick